Octavio
Octavio
Warm and comfortable fleece west
Code:
E 0502
Category:
Leisure collection
Perfectly fitting shape and soft fleece material. Suitable for all kinds of activities all year round.
Zipper closure on the back, adjustable around the waist. Covers well the dog´s chest and belly. This west has been designed especially for very active dogs who do not like the sleeves as they can bother a little in free running and jumping.
This model was shaped for sighthound, but it fits also to another breeds.
How to choose the right size?
See the table in the gallery of the product. The "A" (RED) is the backlength of the dog. It´s measured from the shoulders to the point before the beginning of the tail. Don´t measure the neck, don´t measure the tail!
The "B", "C", ... (BLUE) describe the real measurments of the suit (not of the dog!).
Measure the backlength and choose the corresponding size. Then control the other meausurmentas, if their will fit to the body of your dog.
Don´t forget to check the pictures: you will see how the suit should fit on the dogs body and also for which type of dogs it is addressed and what type of body and tail the dogs on pictures have.
It is possible that this coat won´t fit to your dog!

The sizes are derived from sighthound breeds: S sizes are for whippets whippets (S2 std. female, S3 std. male). M for sloughies, salukies etc., L for Greyhounds, Borzois etc.
Read more about sizes...
Information
Produced by SOFA Dog Wear PRODUCTION, s.r.o., Czech Republic.
Do not tumble dry or dry in sunlight. Do not iron.
Polar Fleece 100% PES, 250g/m2
---
Choose size
Similar Products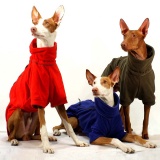 Marty
from 40 EUR
Hachico NS-HOME
from 31.74 EUR
Goya
from 26.96 EUR

Shop:
SOFA Dog Wear
Strojírenská 259/16, 155 21 Praha 5 - Zličín
Czech republic
+420 734 493 214
Operator of this e-shop:
SOFA Dog Wear PRODUCTION, s.r.o.
ičo: 03841421
dič: CZ03841421
All Rights Reserved for Jana Halenková, www.sofadogwear.eu - office@sofadogwear.eu | design: kafes33 | developed: Dominik Turchich