Michael SNOW
Michael SNOW
Light jacket for a mild winter
Code:
D 2401
Category:
Winter collection
New material version with a proven cut, suitable for cold days of early spring and late autumn. Original and practical shape, long hood with slots for a leash. Lightweight upper material with a membrane lined with fleece with long hair, distinctive reflective elements. Velcro fastening under the belly allows for easy dressing and undressing.
How to choose the right size?
See the table in the gallery of the product. The "A" (RED) is the backlength of the dog. It´s measured from the shoulders to the point before the beginning of the tail. Don´t measure the neck, don´t measure the tail! The "B", "C", ... (BLUE) describe the real measurments of the suit (not of the dog!).
Measure the backlength and choose the corresponding size. Then control the other meausurmentas, if their will fit to the body of your dog.
Don´t forget to check the pictures: you will see how the suit should fit on the dogs body and also for which type of dogs it is addressed and what type of body and tail the dogs on pictures have.
It is possible that this coat won´t fit to your dog!
The sizes are derived from sighthound breeds: S sizes are for whippets whippets (S2 std. female, S3 std. male). M for sloughies, salukies etc., L for Greyhounds, Borzois etc.

Read more about sizes...
Information
Produced by SOFA Dog Wear PRODUCTION s.r.o., Czech Republic.
100% PES with PUR coating + fleece 100% PES.
Use the handwash regime. Frequent washing reduces the watreproof layer!
---
Choose size
Similar Products
Michael RAIN
from 42.17 EUR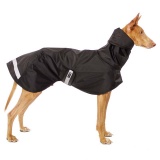 Michael B-RAIN
from 43.91 EUR
Garp
from 65.22 EUR

Shop:
SOFA Dog Wear
Strojírenská 259/16, 155 21 Praha 5 - Zličín
Czech republic
+420 734 493 214
Operator of this e-shop:
SOFA Dog Wear PRODUCTION, s.r.o.
ičo: 03841421
dič: CZ03841421
All Rights Reserved for Jana Halenková, www.sofadogwear.eu - office@sofadogwear.eu | design: kafes33 | developed: Dominik Turchich